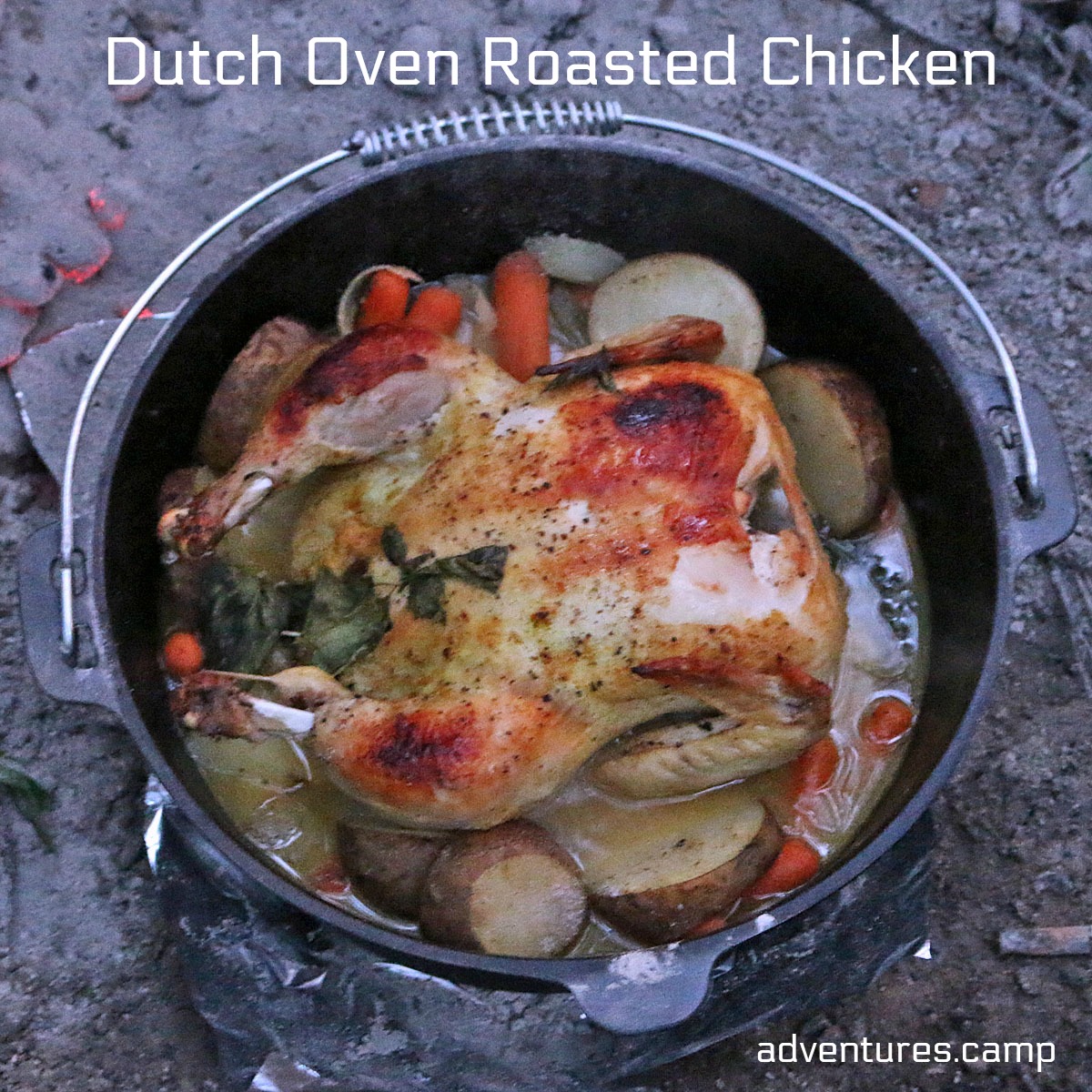 Dutch Oven Roasted Chicken with Vegetables
We tried Dutch Oven Roasted Chicken with Vegetables on our last camping trip for the first time. We had never tried this kind of campfire cooking before and we loved the results. This chicken was so moist and the vegetables cooked in a delicious broth.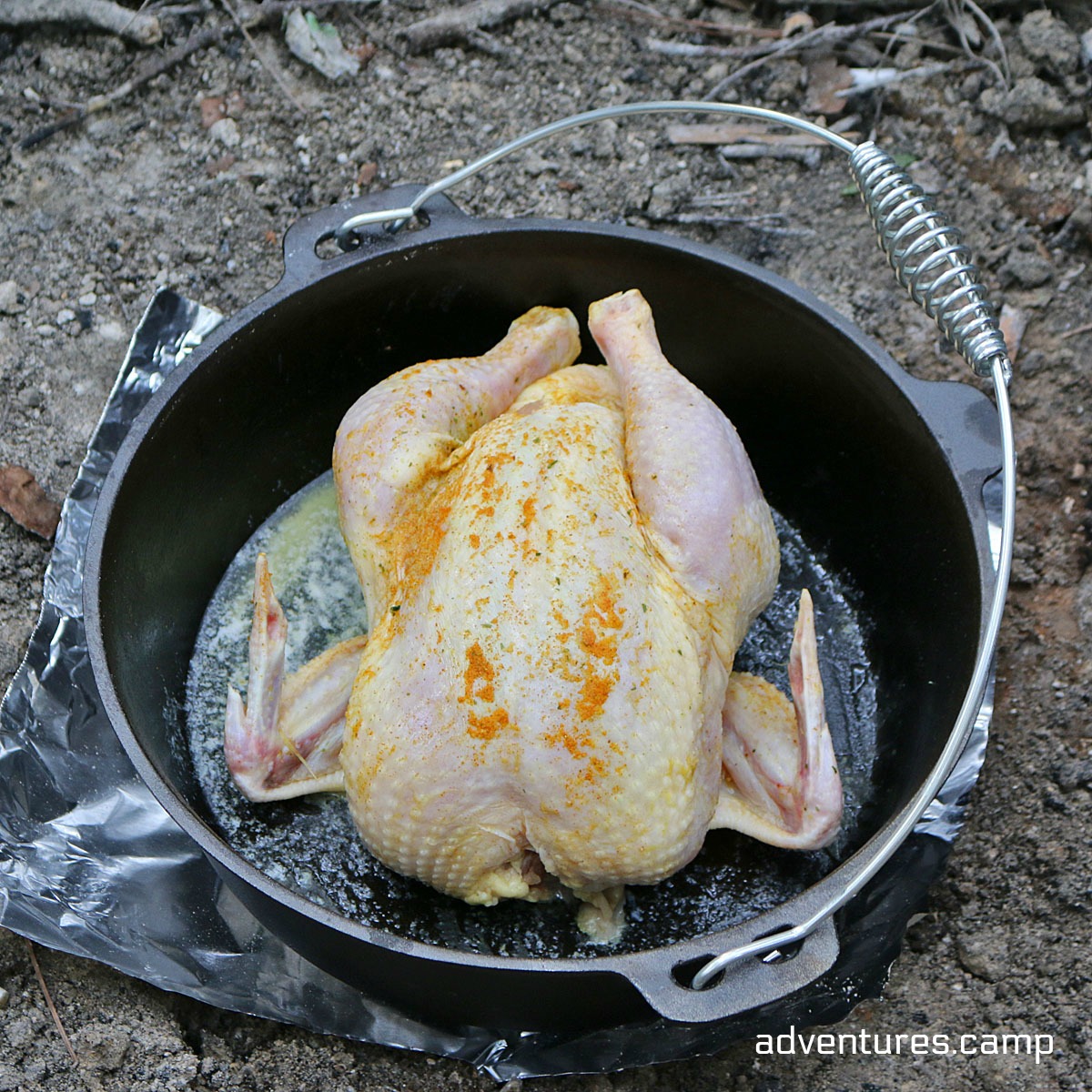 To make it easier at the campsite I seasoned the chicken with an all purpose season salt, garlic powder and fresh cracked peppercorns when I brought the chicken home from the store. Then I bagged the chicken in a gallon freezer bag and refrigerated the chicken for several hours before putting it in the freezer. We try to pre-season and freeze all of our meats we can and then thaw them the day of cooking. This helps keeps the cooler colder longer also.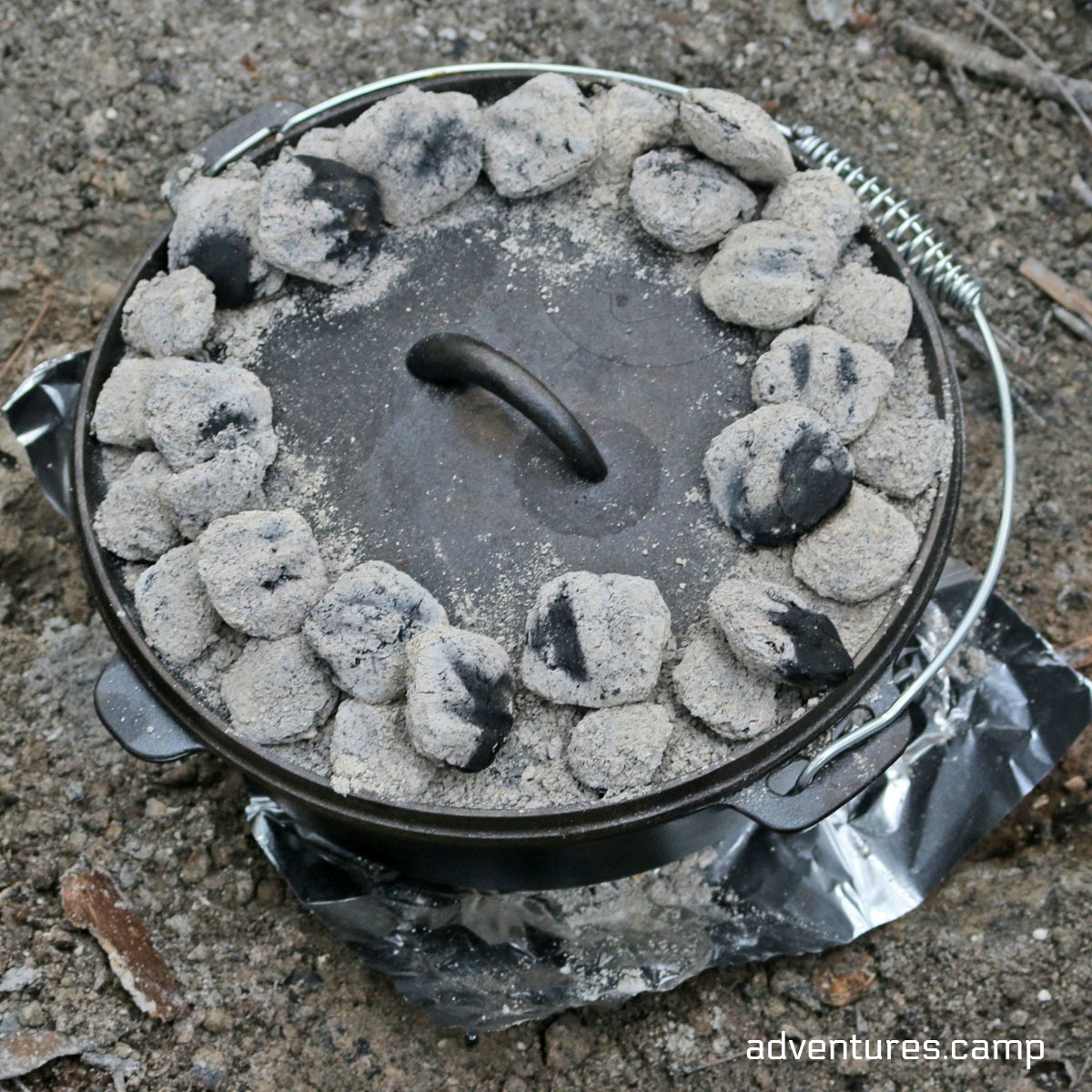 Yes, there are more coals on top than the recipe says, we thought the 15 coals looked to skimpy so we added some more. I think we would of been fine with the 16 coals on top and next time will use that amount.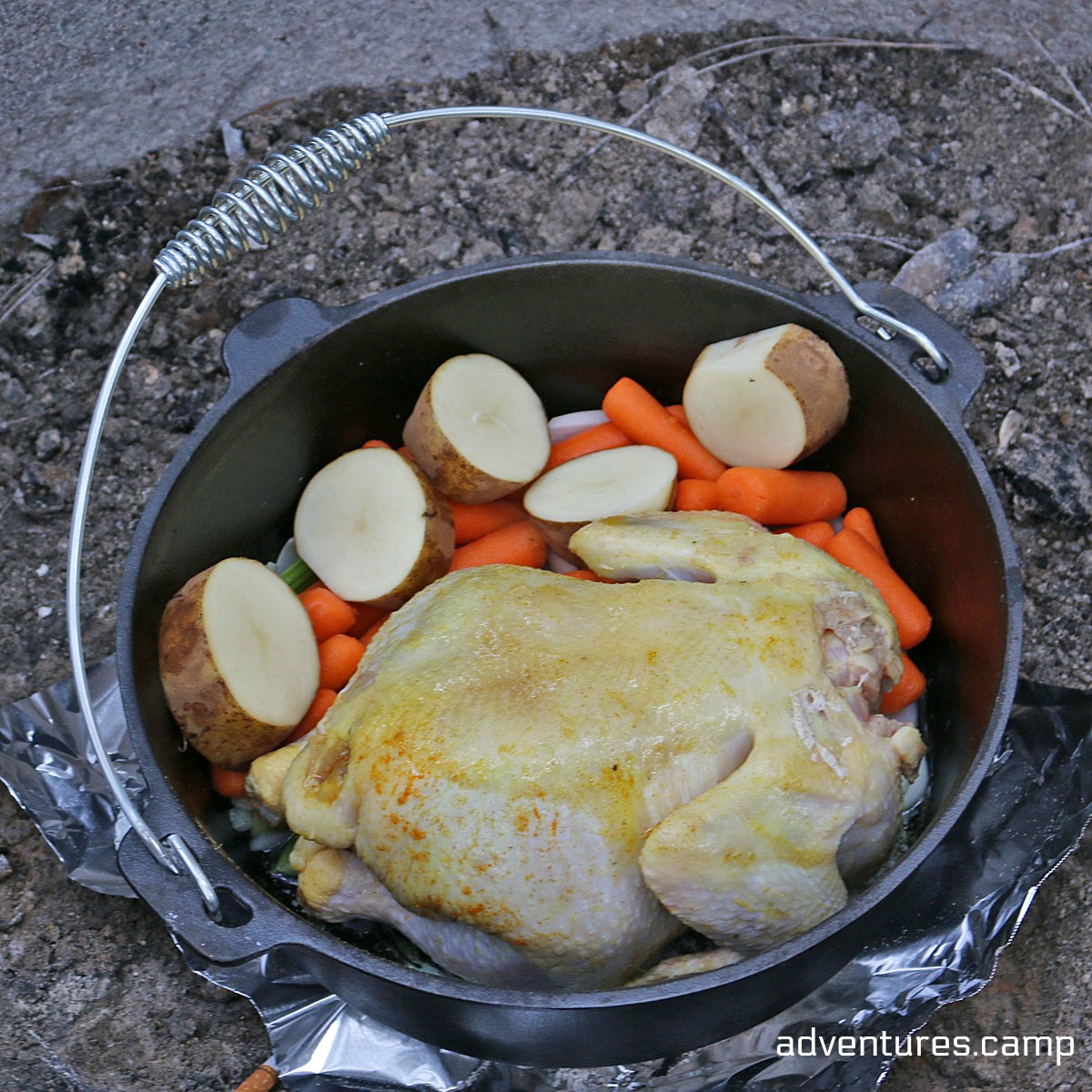 When the butter is melted brown the chicken. Remove the chicken from pot once browned and add your vegetables. Cover and cook until the chicken reaches 165 degrees.
Dutch Oven Roasted Chicken with Vegetables
Author:
Mary Ellen @ Camping Adventures
Recipe type:
Chicken, Dutch Oven, Camping
Prep time:
Cook time:
Total time:
Ingredients
1 3 - 4 lb. chicken
Season salt
Garlic powder
Black pepper
4 tablespoons butter
1 1 lb. package baby carrots
4 potatoes
1 medium onion
fresh basil
Instructions
Prepare 26 coals for cooking the chicken. We actually used 36 coals because we didn't feel there was enough charcoal on the lid. When charcoal is lit lay a piece of foil on the bottom of your cooking area. Put 9 of the coals on the foil and set the pot over the charcoal.
When pan is hot melt the butter in the bottom of the Dutch oven. Add the chicken to the pan breast side down. Brown well and continue browning each side until the chicken is browned. Remove chicken from pot.
Slice the potatoes into 1½ inches thick pieces. Add to pot.
Cut the onions into wedges. Add to pot.
Add the baby carrots to the pot.
Return the chicken to the pot. Cover with the lid and put the remaining charcoal around the edge of lid.
Maybe you'd like to try our recipe for?
Dutch Oven Boston Butt Roast and Beans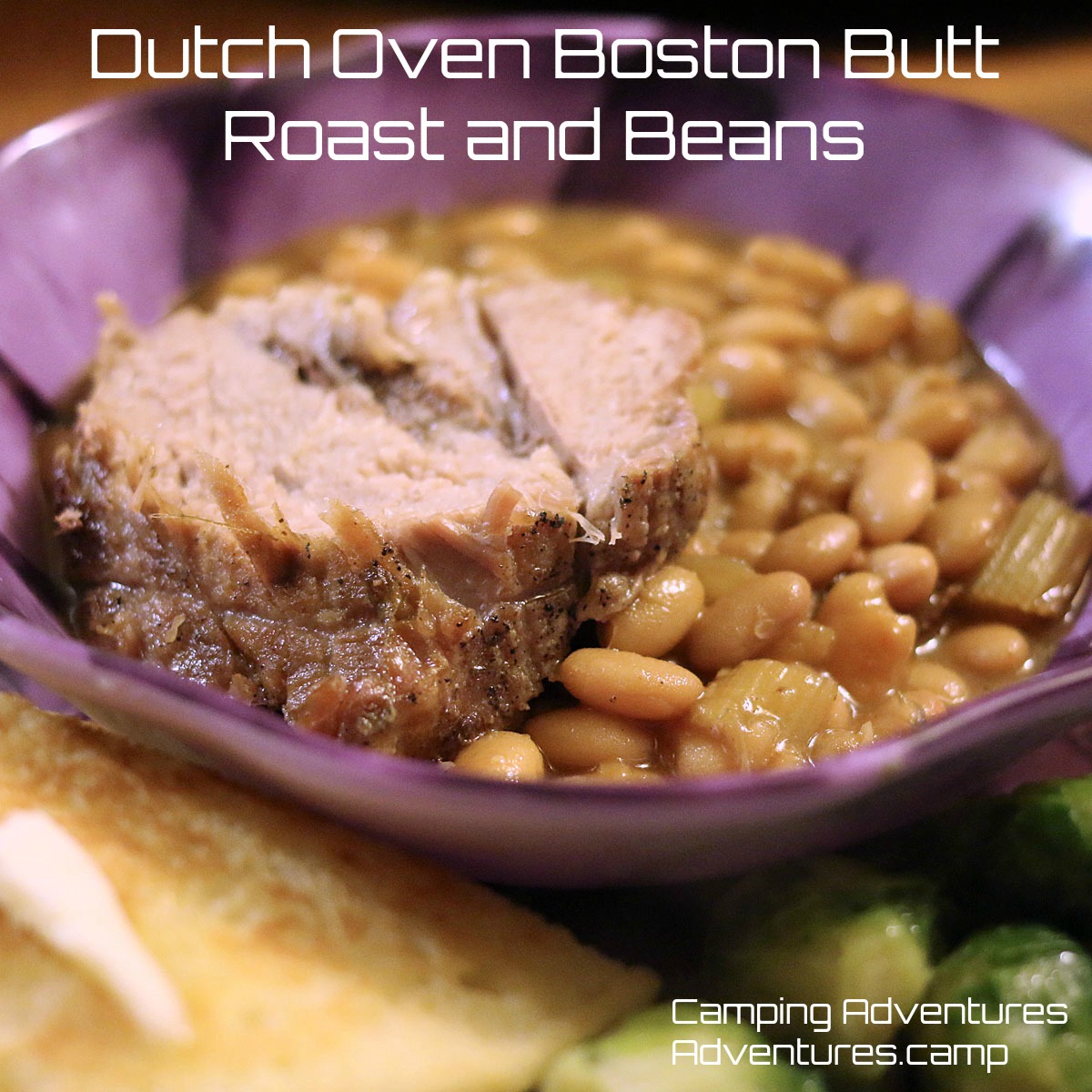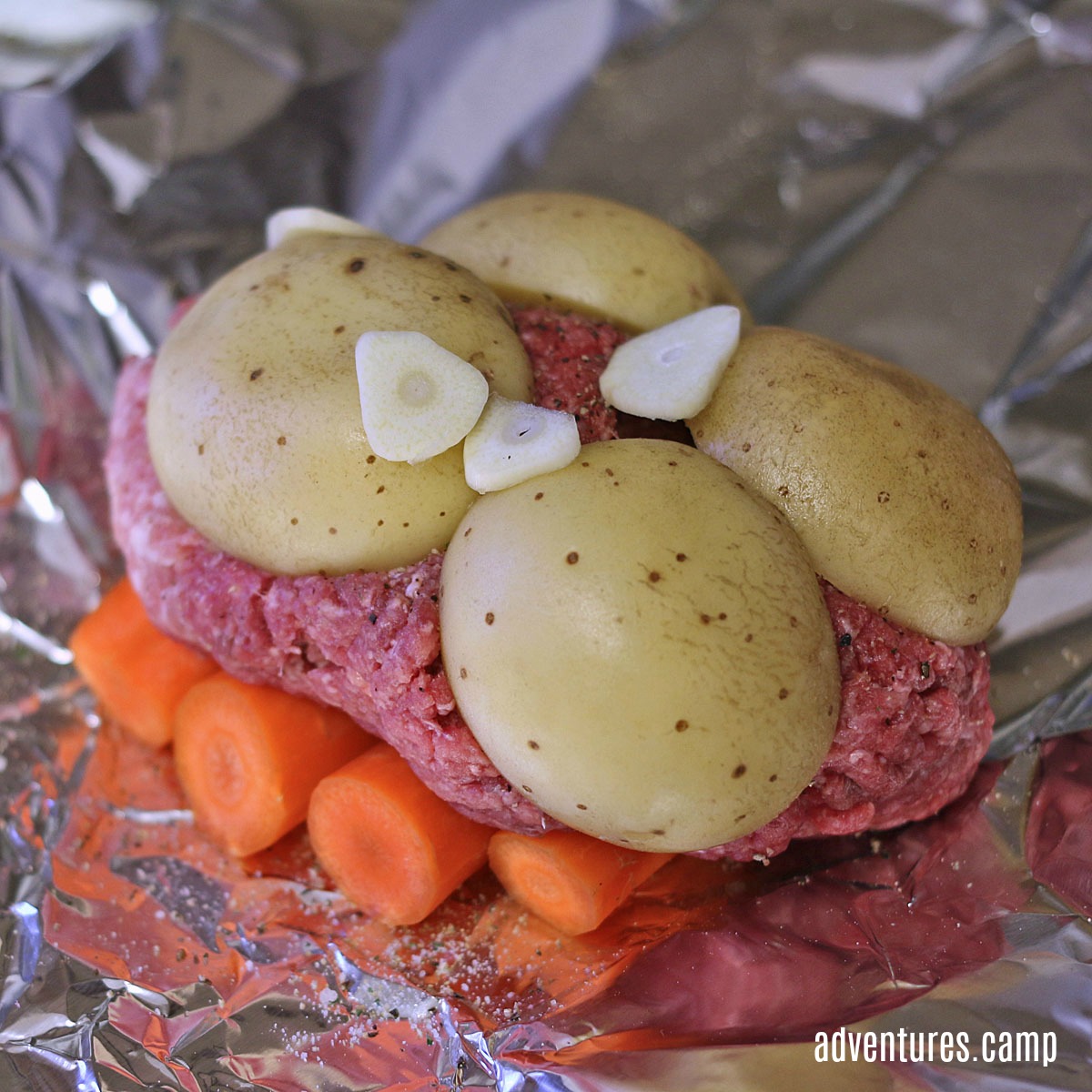 Pin It!