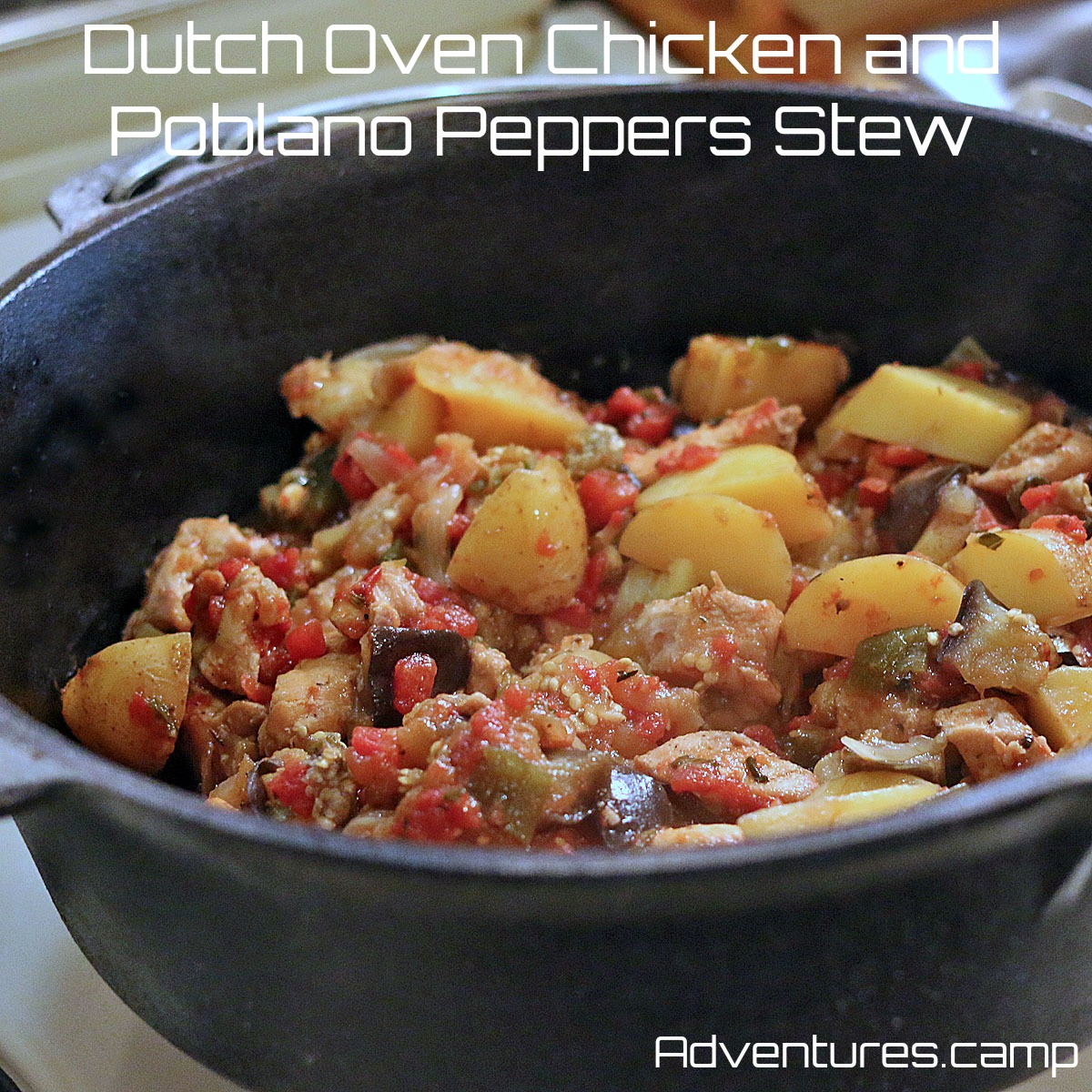 Dutch Oven Chicken
and Poblano Peppers Stew
Today's recipe is all about the poblano peppers, they go so well with chicken. I used 3 poblano peppers and it was a little spicy, well a lot spicy. If you don't like spicy I would cut it down to just one poblano pepper. It's weird though because one time you can buy the poblano peppers and they aren't hot all and the next time they are. I would suggest tasting one before you add 3 to make sure they don't have a lot of heat unless you like it. We do so for us we loved this dish.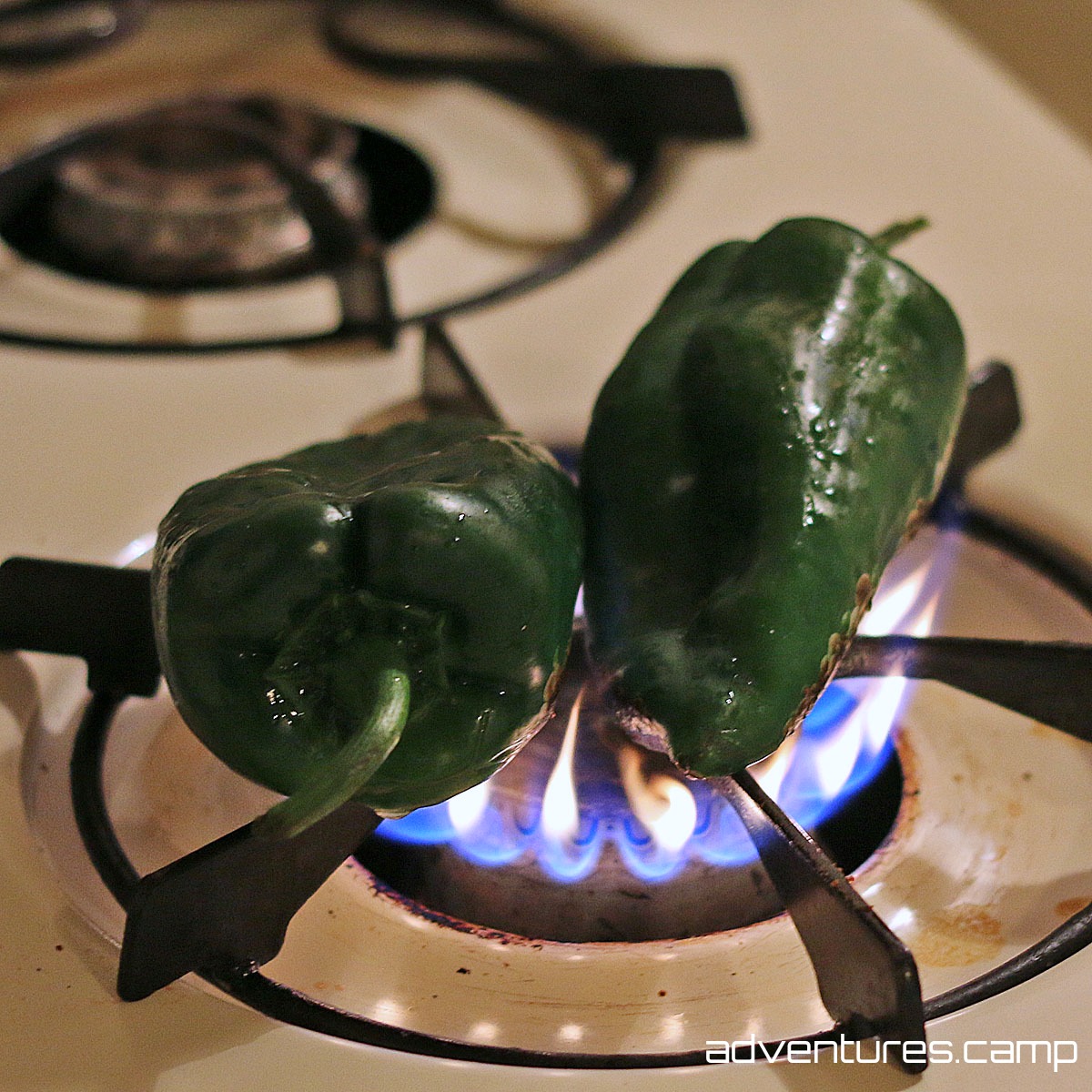 If you want to make this recipe while camping do what I did and roast the peppers ahead of time, then you just have to add them when it's time to cook. You could also roast them over the fire when you are camping, you'll see it doesn't take long. It is kind of messy though and that is why I liked doing it ahead of time.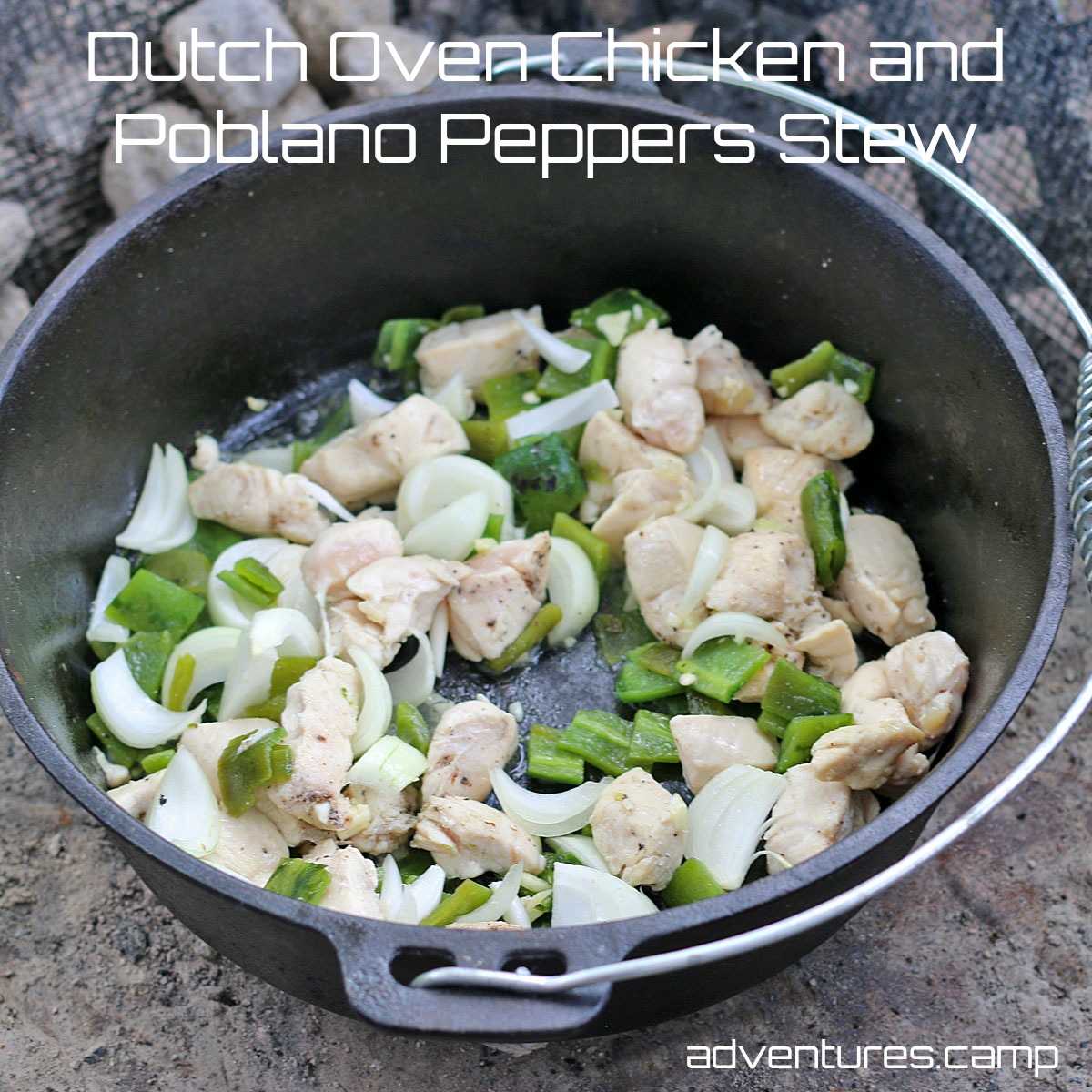 Once you brown the chicken add your peppers, onion and garlic. Then add the rest of the vegetables. Add the top and put the charcoal on top.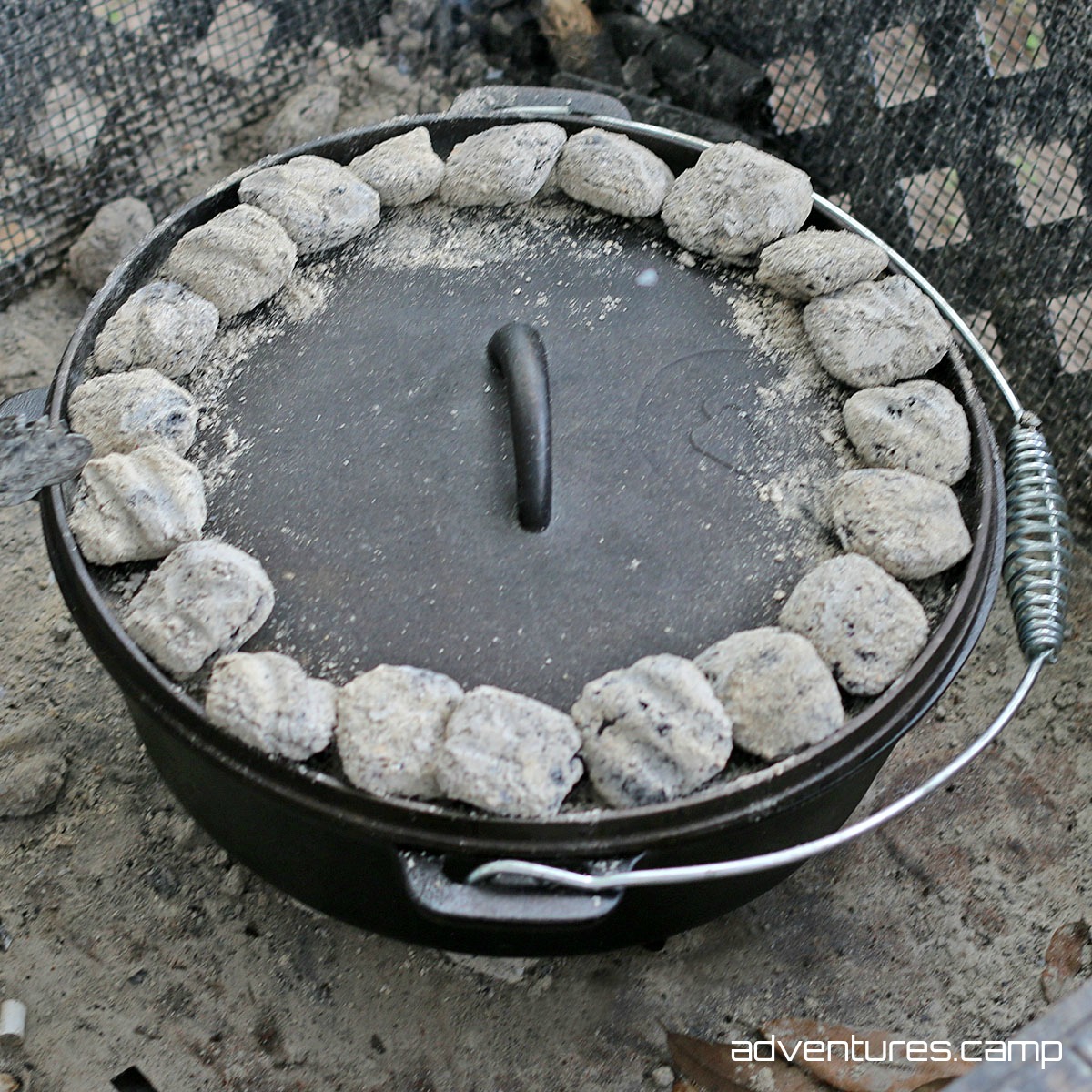 I opened it up after it was cooking about 30 minutes to add the spices. I don't think it would of made much difference if you added it with the vegetables. I used fresh spices because I had them and wanted the flavors to stay fresh and bright.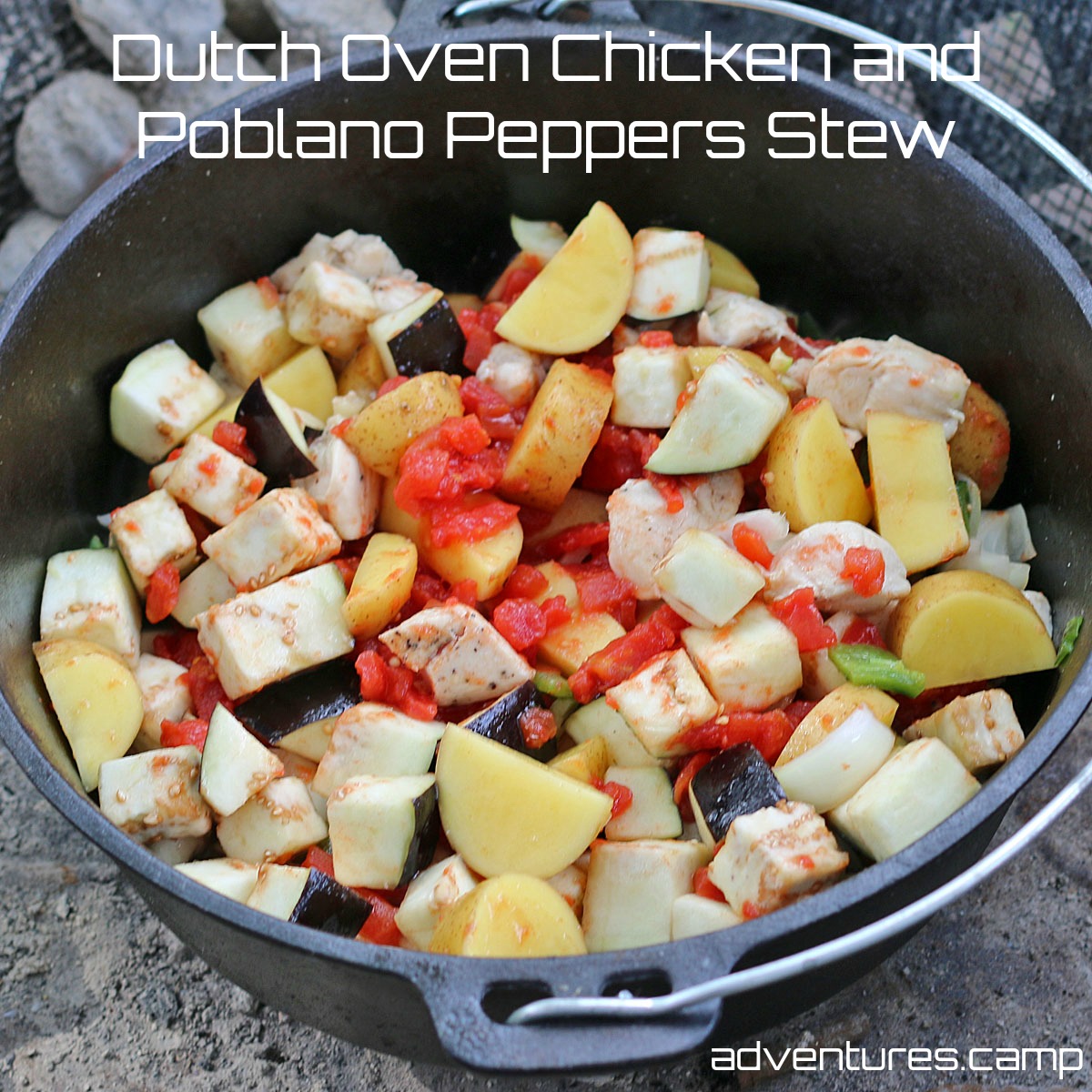 It looked like this when I added the spices.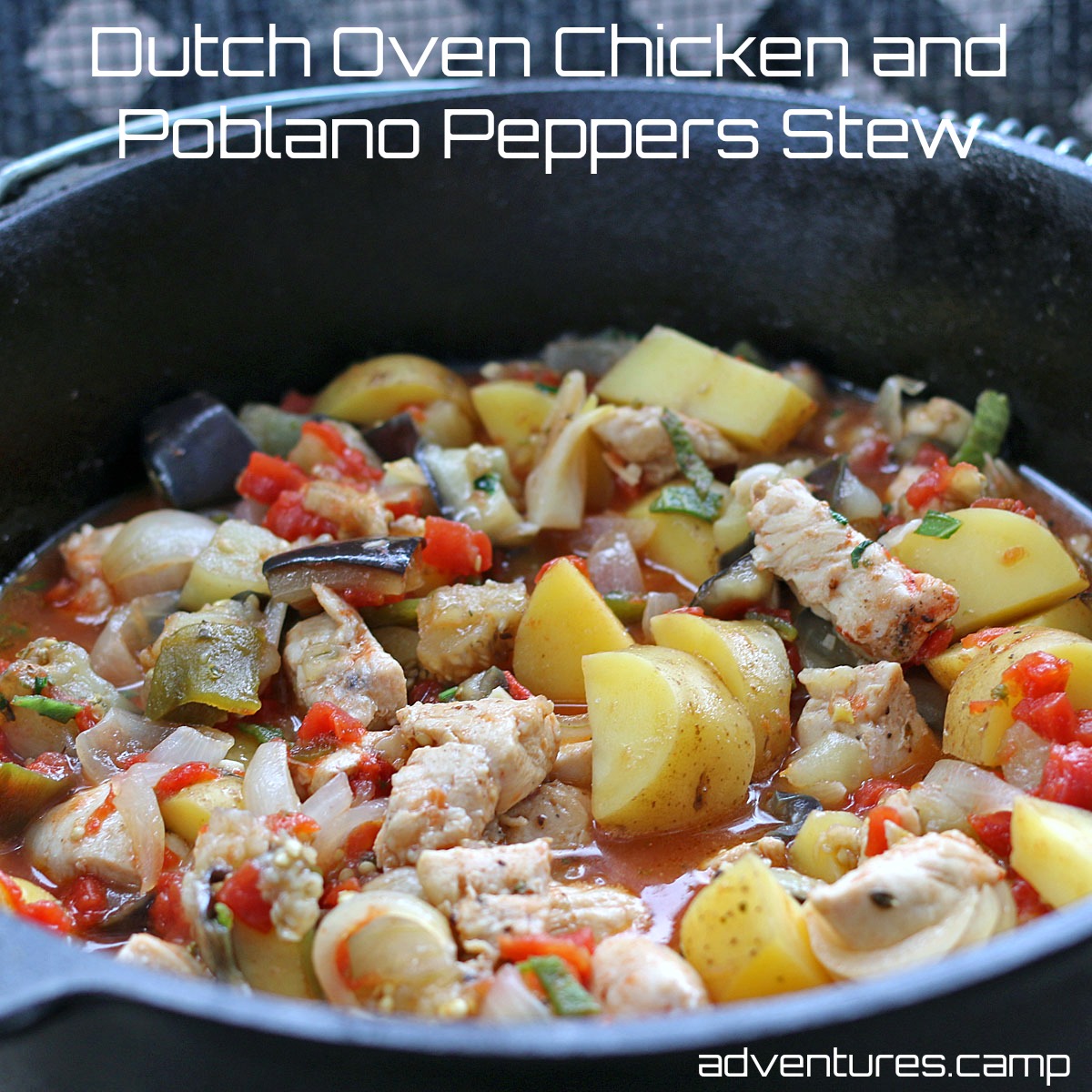 I cooked it another 30 minutes to let the flavors mingle. The only thing I would of changed was adding the eggplant in the last 30 minutes too because it cooked down a little more than I would of liked it to do. They lost their shape which didn't affect the flavor of this stew at all.
Dutch Oven Chicken and Poblano Peppers Stew
Author:
Mary Ellen @ Camping Adventures
Recipe type:
chicken, dutch oven
Prep time:
Cook time:
Total time:
Tender chicken breasts with eggplant, onions, potatoes, tomatoes and spices cooked in a Dutch Oven.
Ingredients
1½ lbs. chicken breasts cubed
1 - 3 poblano peppers roasted
1 eggplant cubed
1 medium onion chopped
3 medium potatoes cubed
1 14.5 oz can petite tomatoes
2 tablespoons oil
3 - 4 garlic cloves minced
1 cup chicken stock
salt
pepper
½ teaspoon dried thyme or 1 teaspoon fresh
1 teaspoon Italian Seasoning
Instructions
Cut the eggplant into cubes and place in a strainer. Salt and let set for 15 minutes. Blot off with a paper towel the liquid that forms on the eggplant. This is supposed to help with bitterness that eggplant can have. I really think with the eggplant we get today it isn't necessary but I still do it just to be safe.
Roast the poblano peppers over the grill or on a gas stove like I did. When they come off of the heat put them in a bowl and cover them with saran wrap. Let set for at least 15 minutes for them to steam and it helps to remove the blacked skin easier. Be sure to let the skins blacken, the peppers won't burn. Scrape off them skins after they have rested.Cut the peppers into about a ¾ inch square or close to that.
Cut the chicken into large pieces. Salt and pepper well.
Cut up the potatoes and add them to the eggplant. When the chicken is browned add the potatoes, eggplant and tomatoes.
Put the lid on and place the charcoal on top. Cook for 30 minutes.
Remove the lid and put in the spices after giving it a stir. Cook another 30 minutes.
We used 20 briquettes of charcoal on the bottom and 20 on top.
Maybe you'd like to try another one of our Dutch Oven Recipes?
Dutch Oven Boston Butt Roast and Beans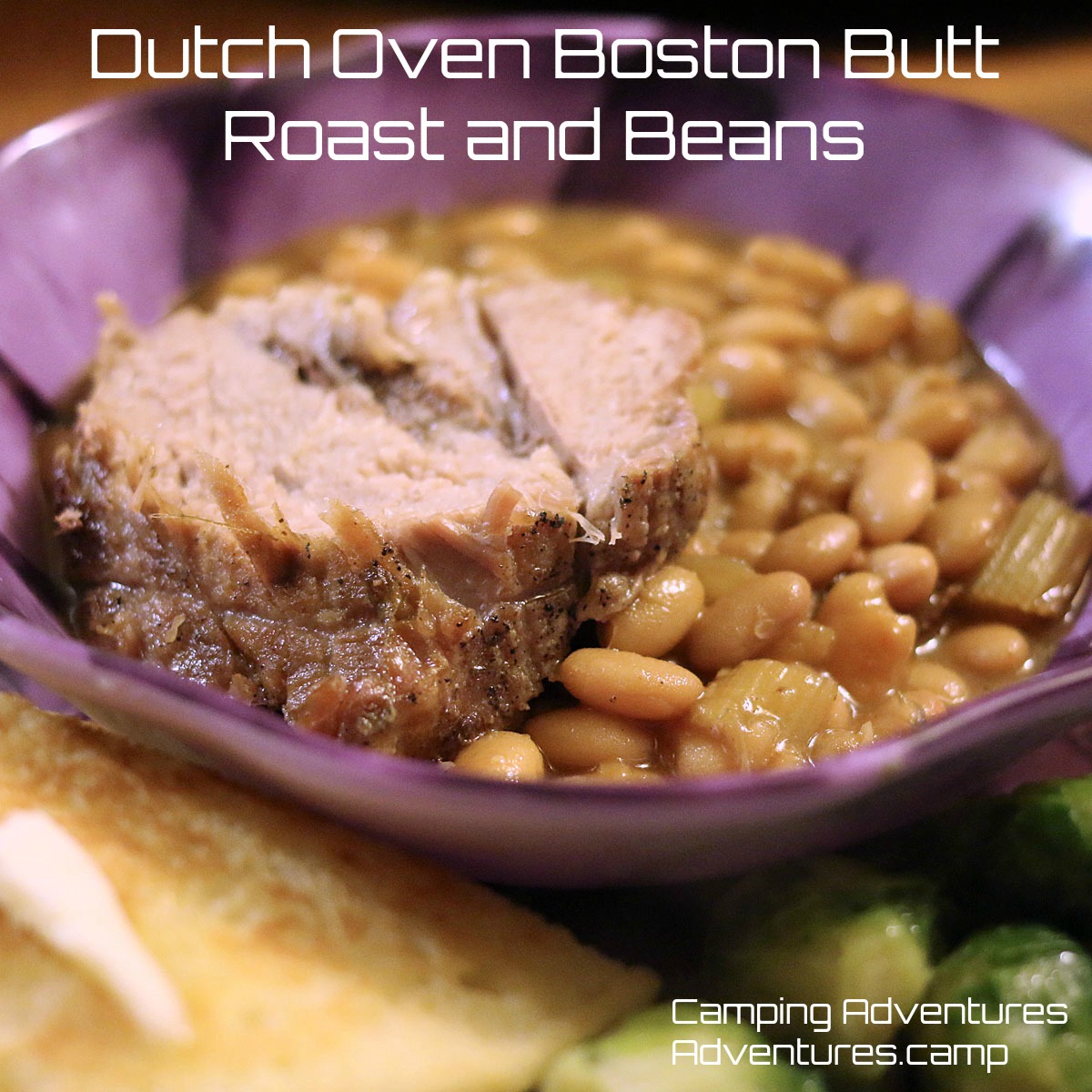 Dutch Oven Roasted Chicken with Vegetables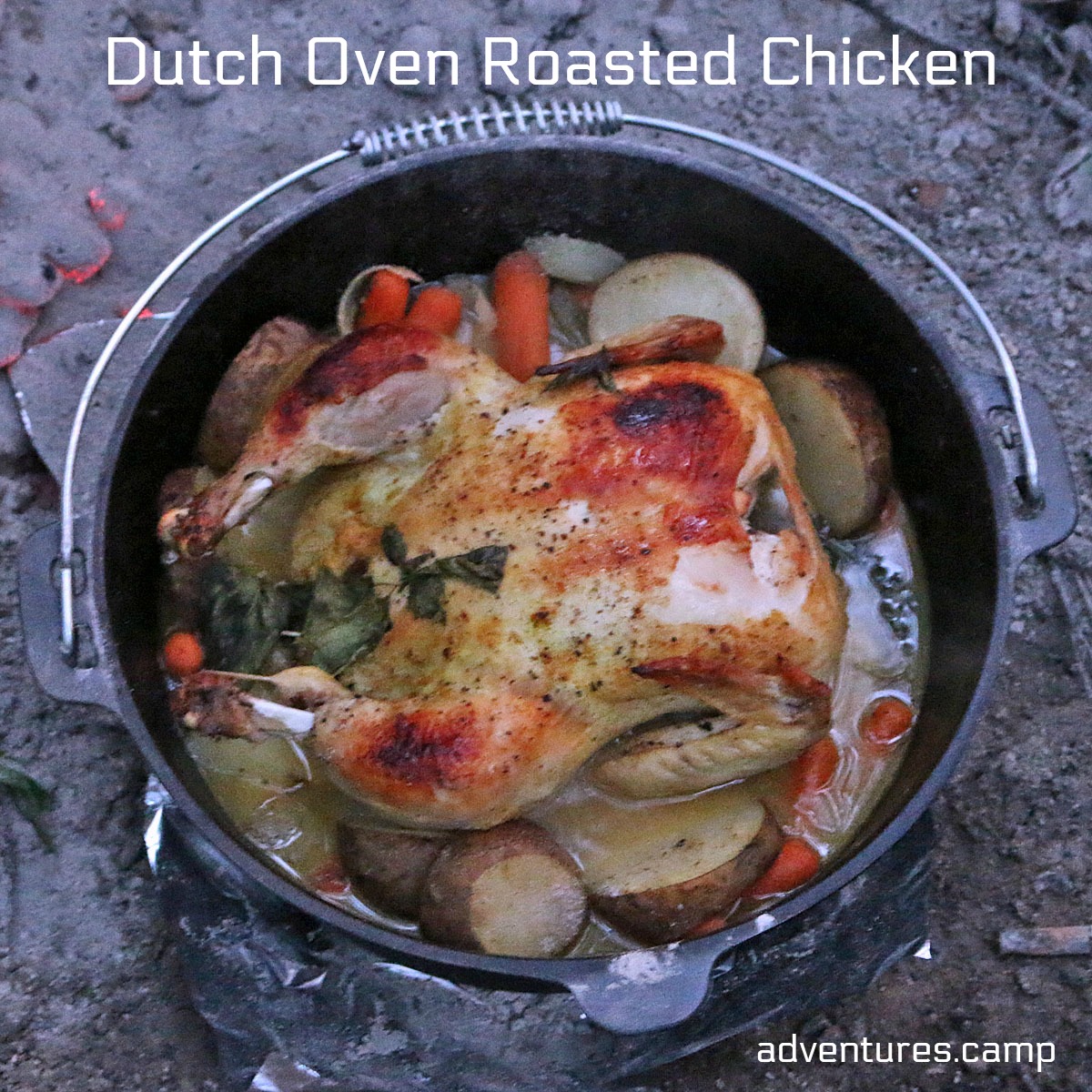 Pin It!