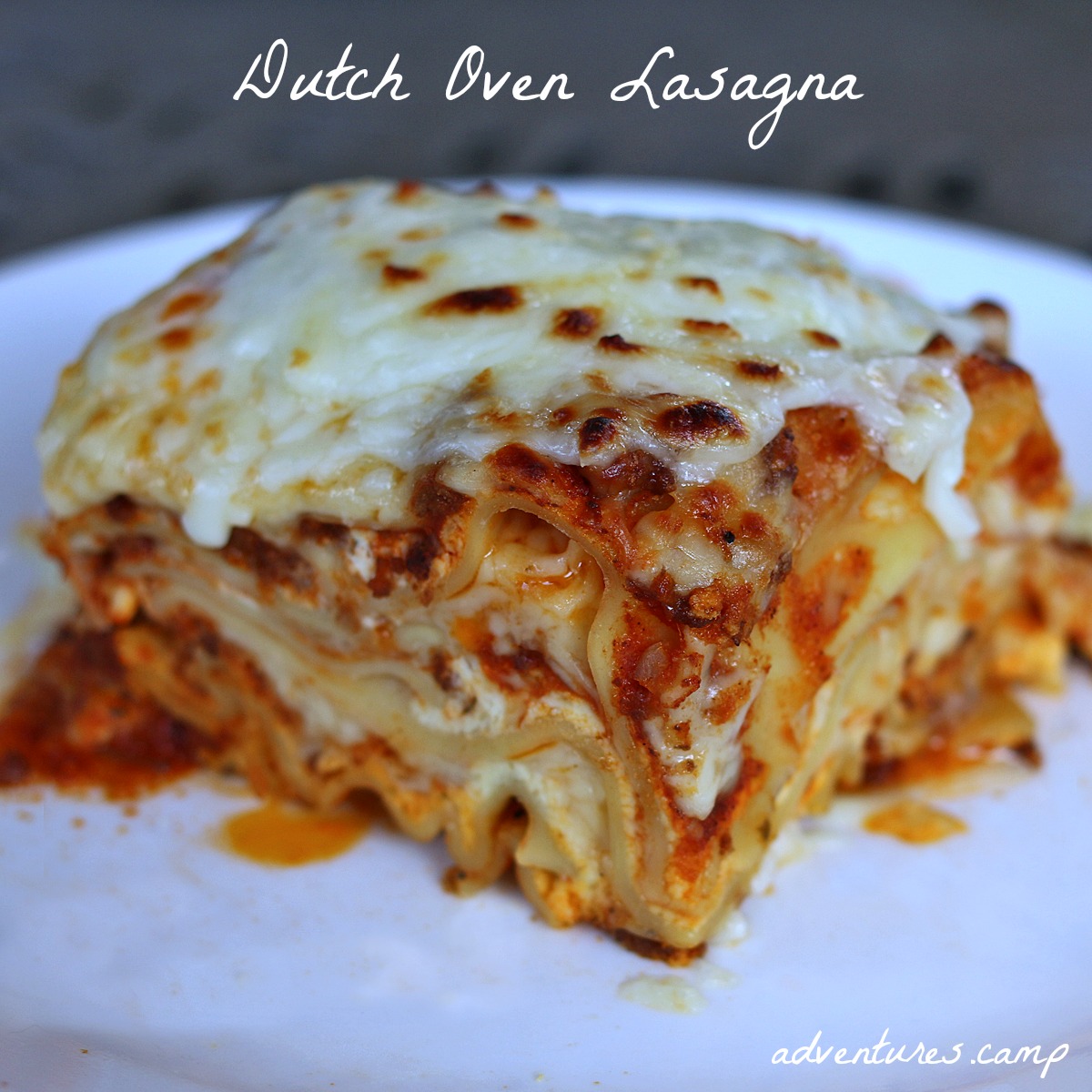 Dutch Oven Lasagna
We are absolutely in love with Dutch Oven cooking when camping, sometimes we even do it at home. This lasagna couldn't be easier to make at camp.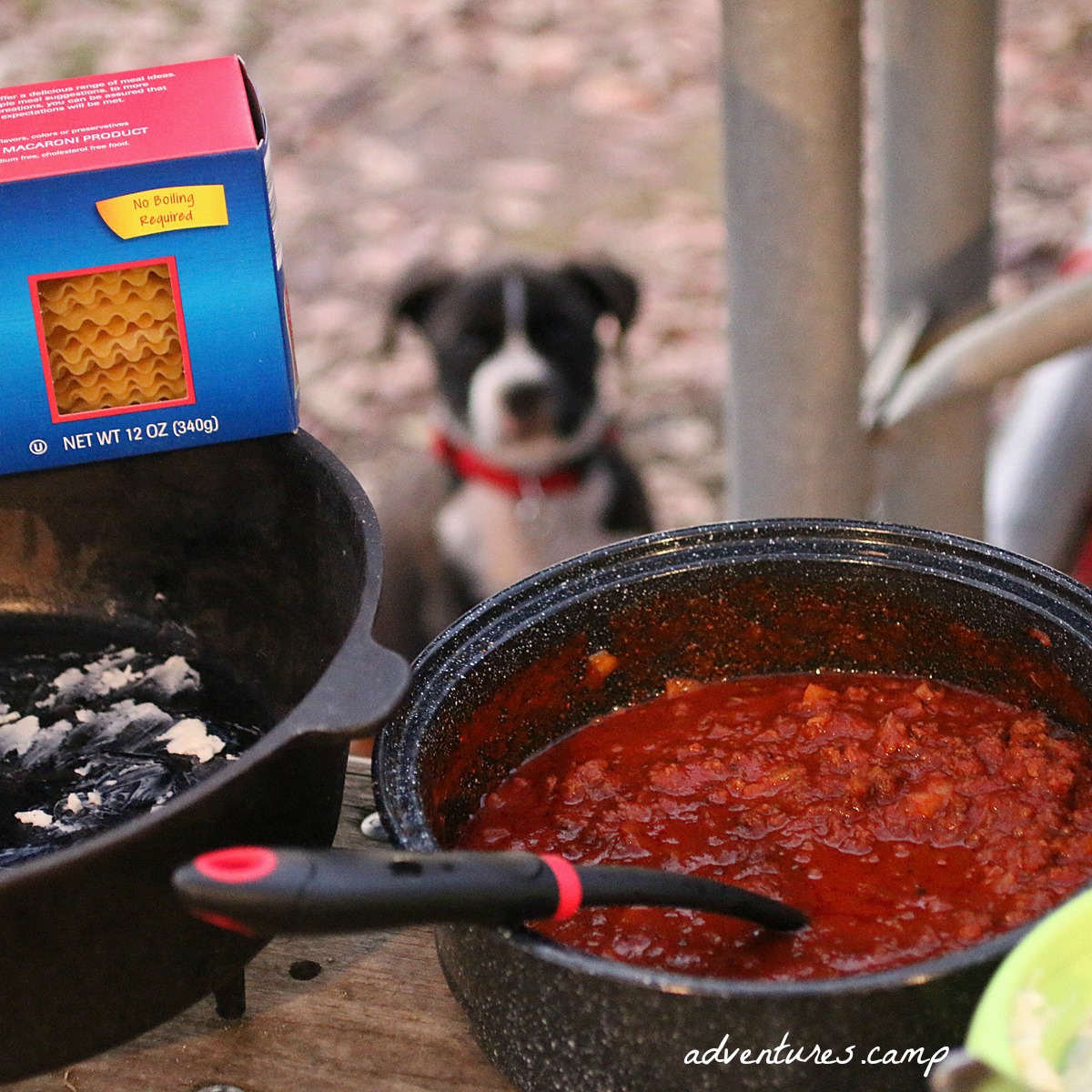 As you can see we have a photo bomber here. That's Athena our new puppy. This is her first time camping and she had a blast. She's about 10 weeks old in this picture. She's part mastiff/pit bull and is full of cuddles.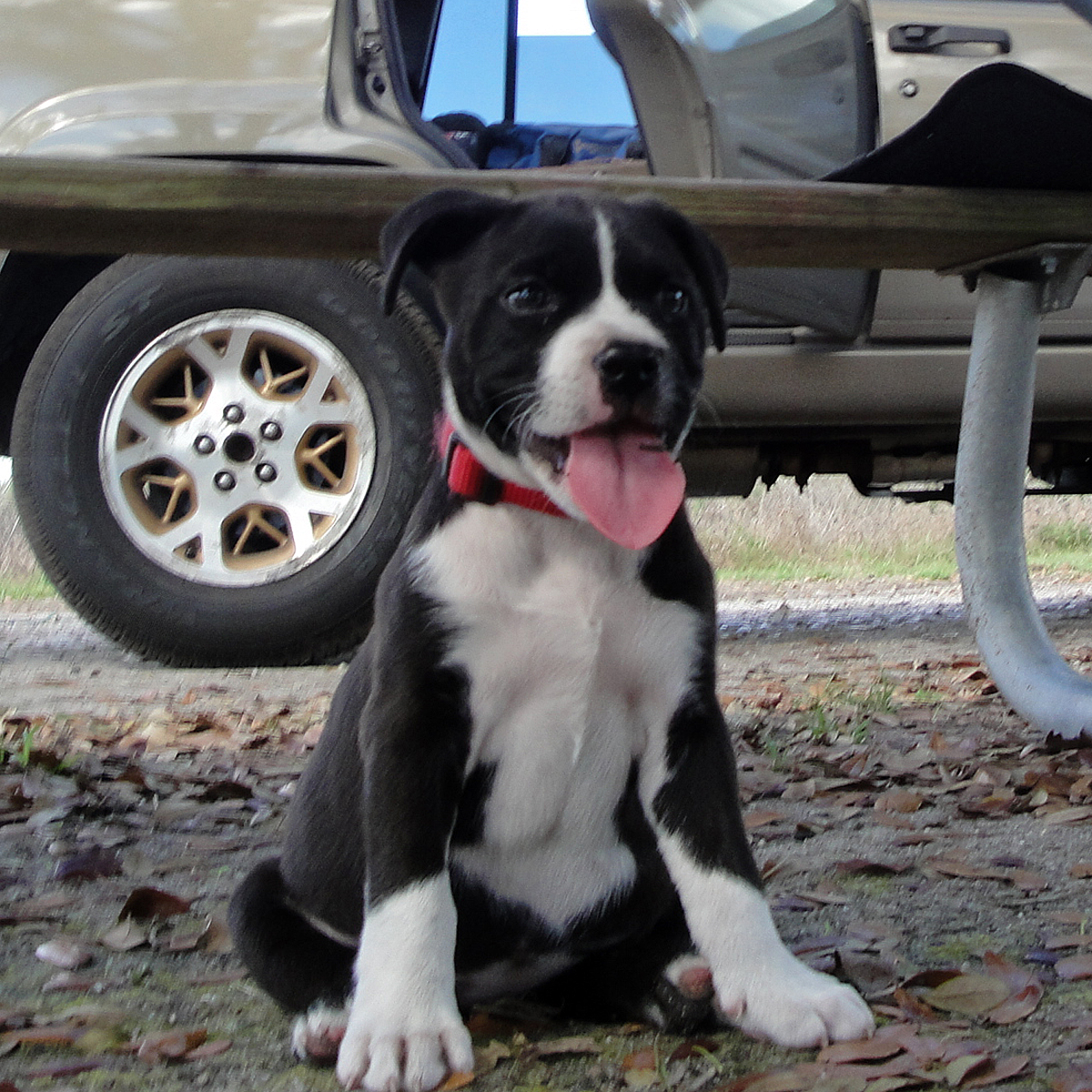 She's about 14 weeks now and she's doubled in size. She's gonna be a big girl that's for sure. Wanna guess how big she'll get? Leave us a comment below.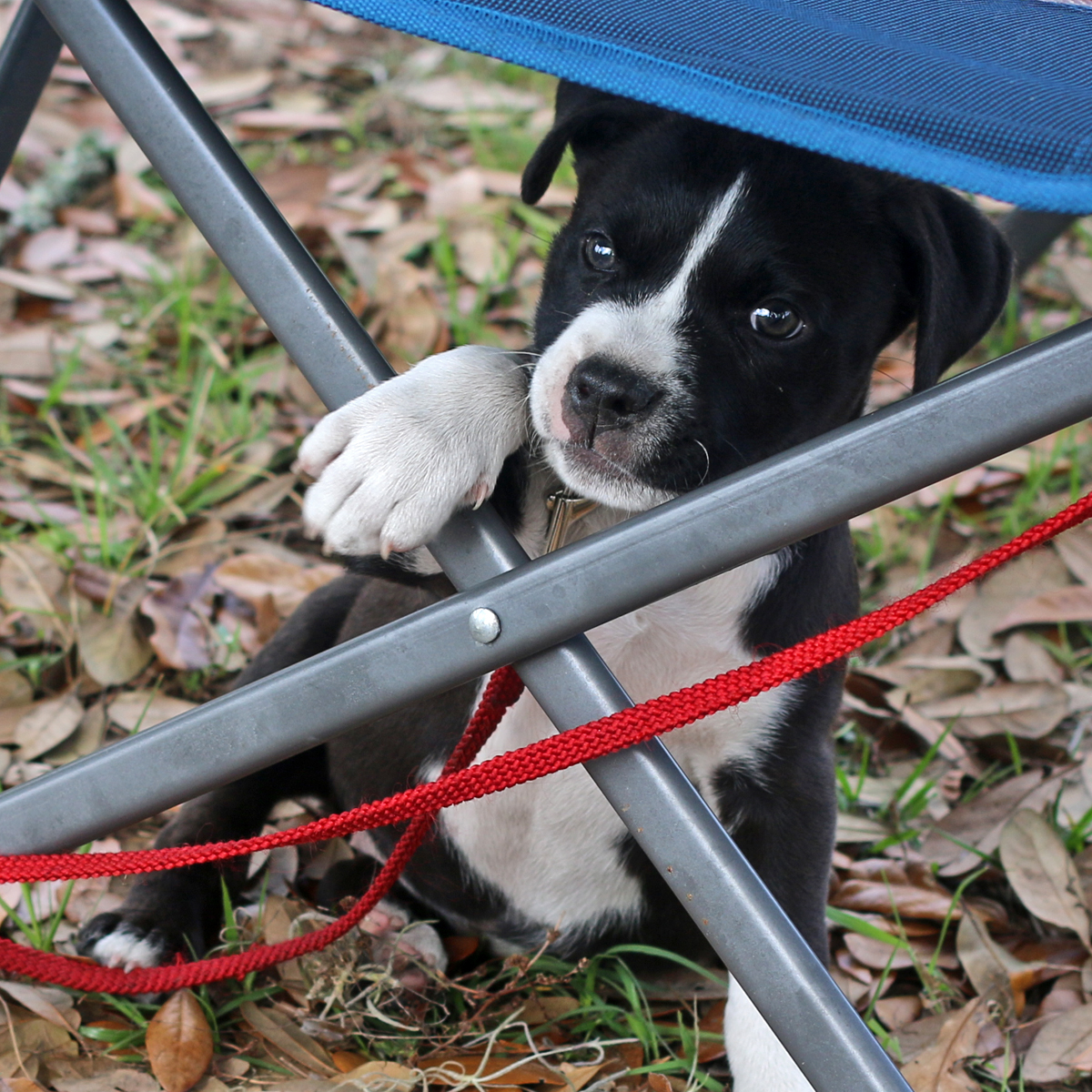 Look at that sweet face! She's getting with the program. Other than one little accident where she pee'd on the sleeping bag in the middle of the night she did really good. She also learned how to escape from the tent (thanks to her big sister – who was trying to escape from her) no matter how we zipped it so now we have to tie it shut. I'm glad it was our last night.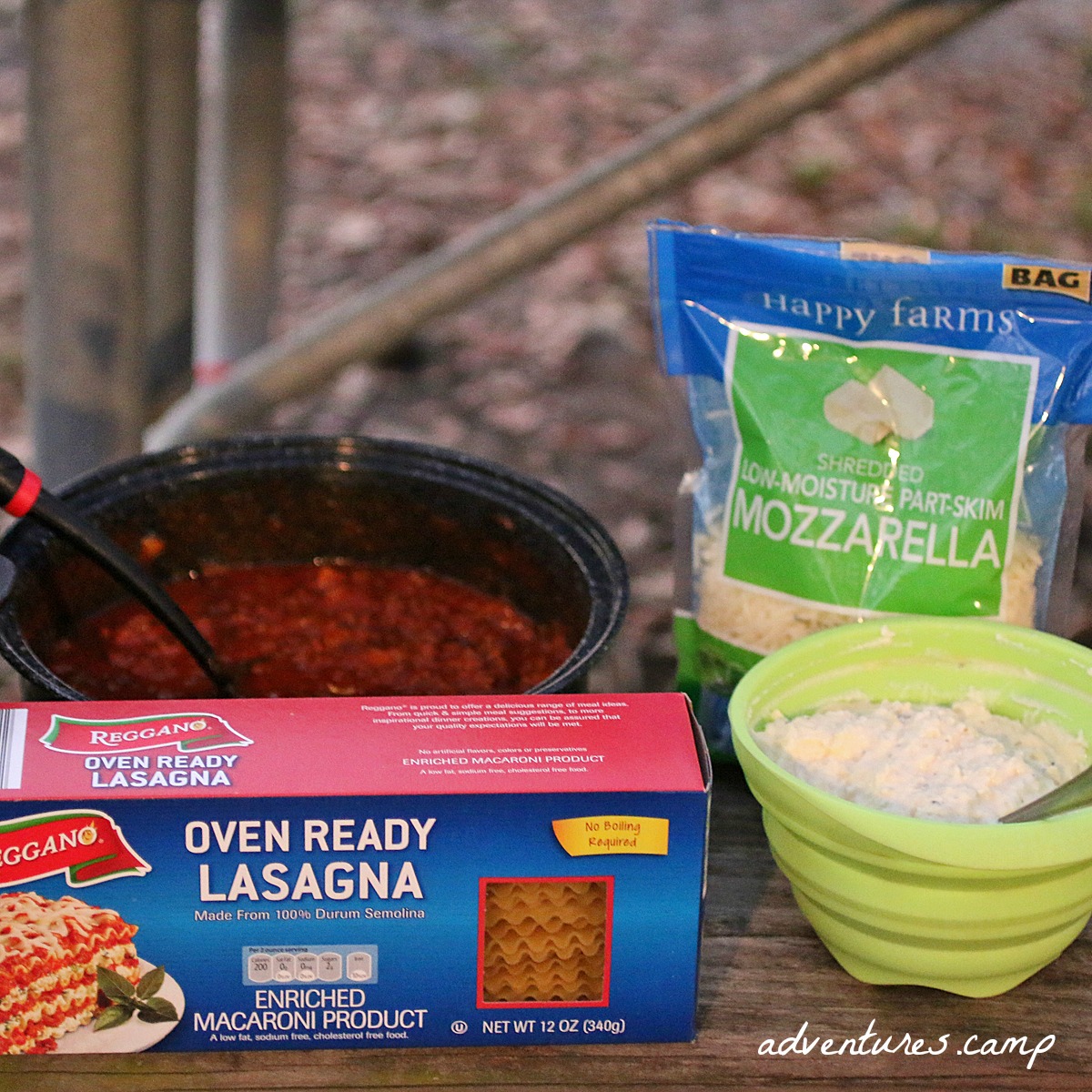 We start out using a jarred tomato sauce, ground beef, chopped onion and just add a few spices to it which I prepackage in a baggie. (We've also added some sweet Italian sausage to the sauce another time) With the oven ready lasagna it goes together in a snap. I also mix up the ricotta mixture at home and store it back in the container it came in.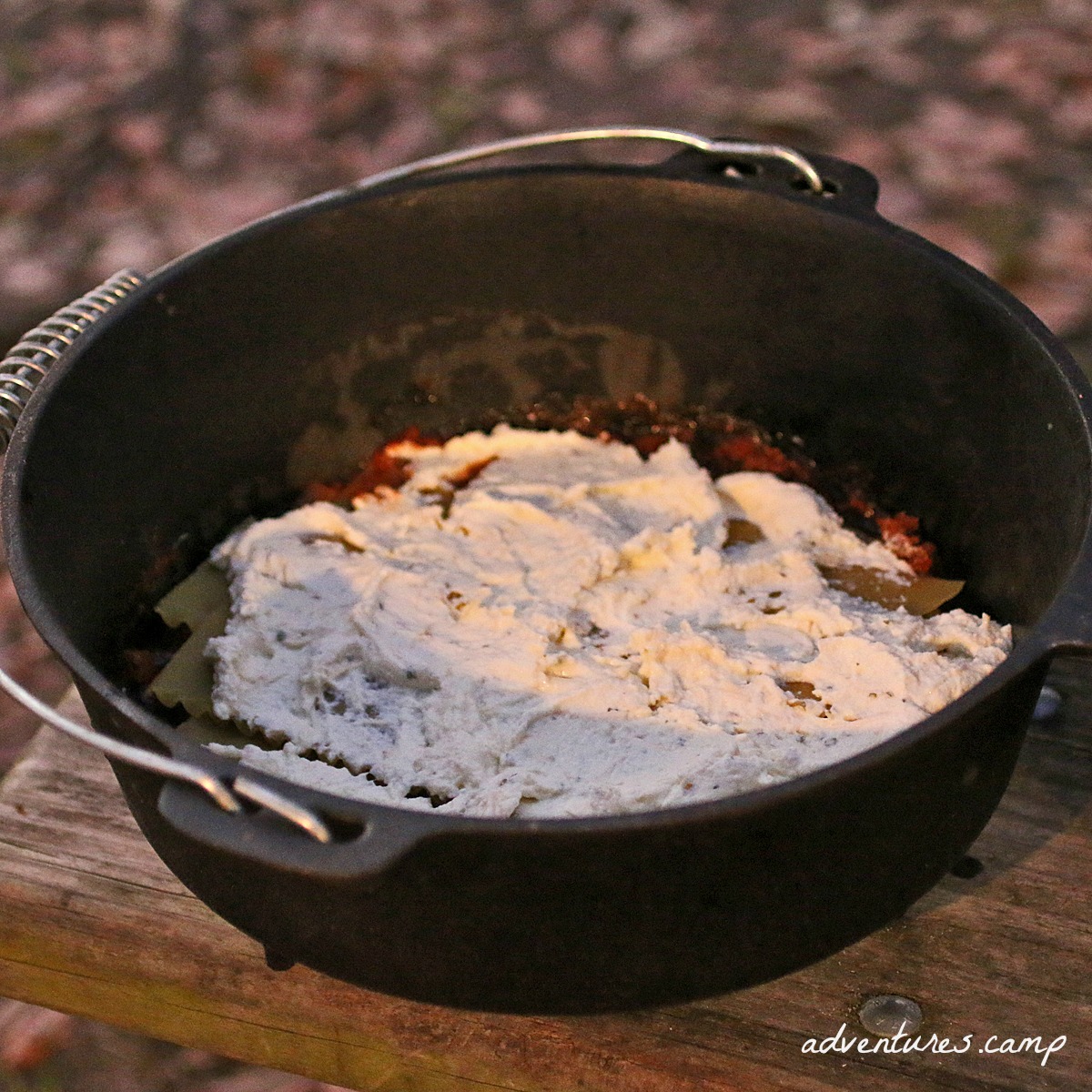 Here is the first layer. I put a little sauce on the bottom after I spray the pan with cooking spray. Then add a layer of noodles, the ricotta mixture, more sauce and a layer of mozzarella cheese. Repeat this two more times ending with a layer of parmesan on top. We add more mozzarella the last 15 minutes of cooking time.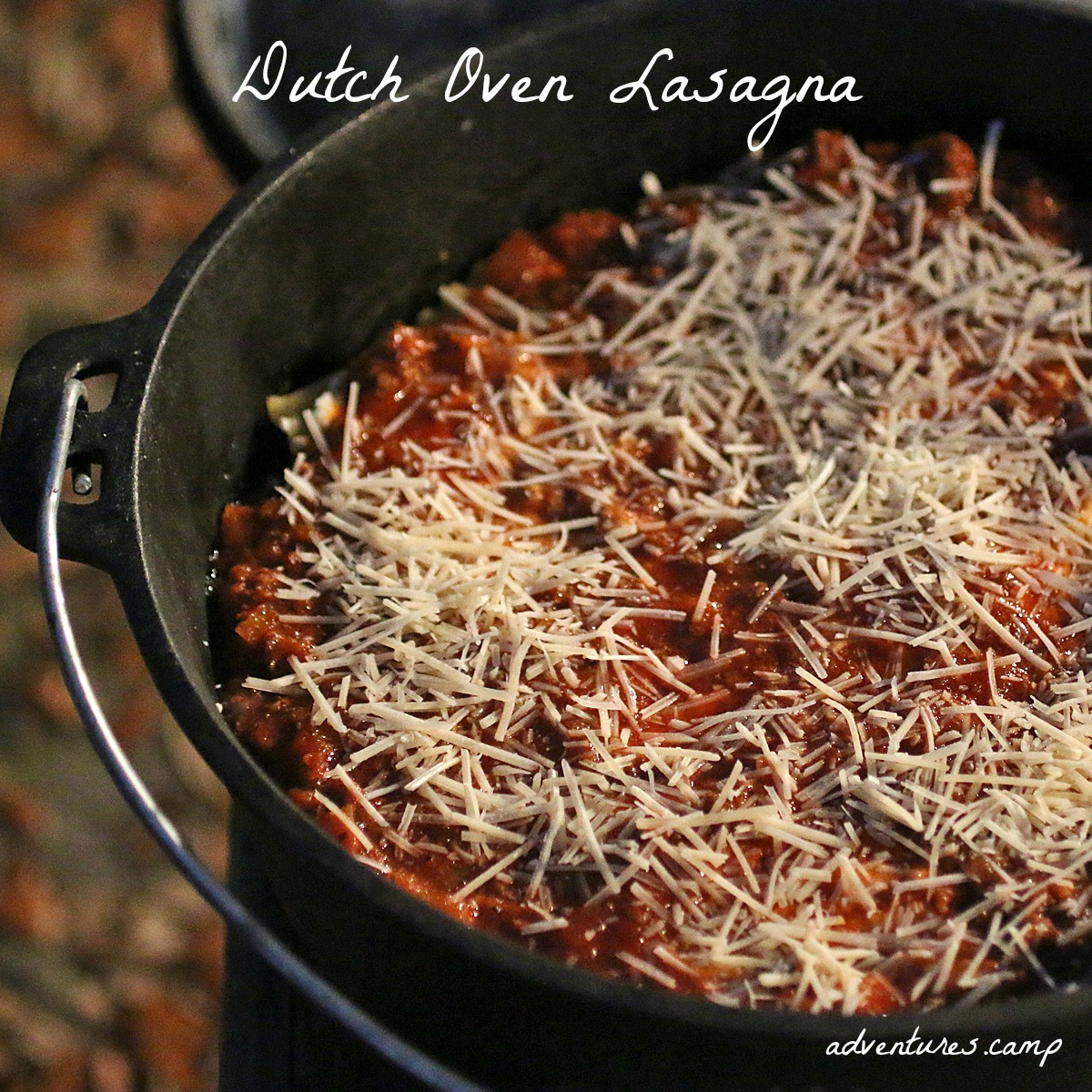 We start 38 coals in our charcoal chimney. (you can refer to Dutch Oven recipe for Dutch Oven Boston Butt Roast and Beans to see photos on how we set up for this kind of cooking) Then we place 17 of those coals in the bottom of the fire pit. Place the pot on top of those coals. Add the lid and add the remaining coals around the outside rim of the top. Cook for 45 minutes. Remove the lid carefully and add a layer of mozzarella cheese. Replace top and cook another 15 minutes. Let set 10 minutes before serving.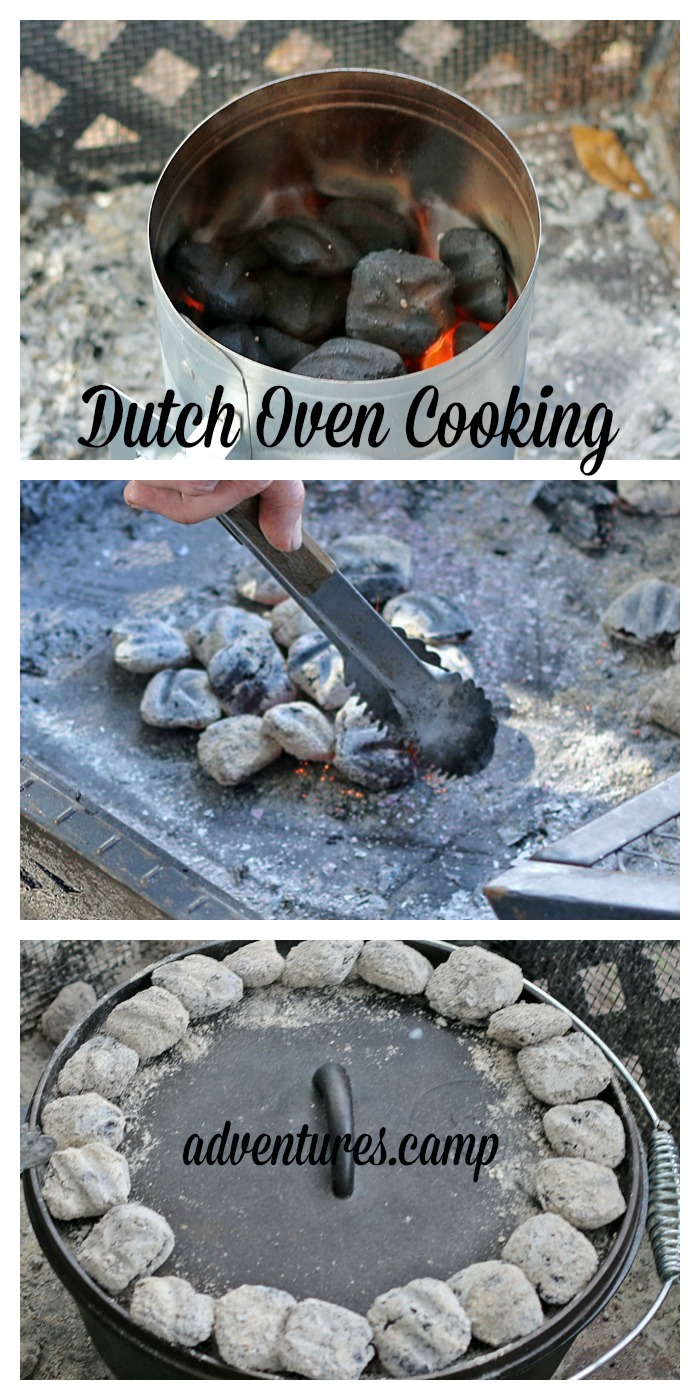 When cooking with charcoal and a Dutch oven you want a slow burning charcoal. We use Kingsford original. If it looks like your coals are going to burn to quick start a few more in the charcoal chimney and add as needed. Resist the urge to put any more charcoal on the lid or around the center. Your oven will get to hot. The first time I made this camping I decided to add more charcoal on the lid around the center. The cheese got way overdone. So now we add it in the last 15 minutes.
I've also brought pizza dough with us and made breadsticks on the lid wrapped in aluminum foil. They tasted great but did not brown on top. I'll share that with you soon.
Dutch Oven Lasagna
Author:
Mary Ellen @ Adventures.camp
Recipe type:
Dutch Oven, Camping Recipes, Lasagna
Prep time:
Cook time:
Total time:
Cook your own lasagna at camp using a Dutch Oven.
Ingredients
1 jar spaghetti sauce
1 tablespoon oil
1 lb. ground beef
1 chopped onion
1 tablespoon Italian spices
1 teaspoon garlic powder
Ricotta filling
16 oz. ricotta cheese
2 eggs
1 tablespoon Italian spices
½ cup parmesan cheese
Remaining ingredients
3 cups mozzarella cheese
½ cup parmesan cheese
1 box oven ready lasagna noodles
Instructions
At home I mix up the ricotta filling and place in a plastic container. Prepackage the Italian spices and garlic needed in a baggie for the sauce.
Start 38 charcoal briquettes in a charcoal chimney.
At camp brown the ground beef in a large pan with the cooking oil. Add the onion and cook until translucent. Add the sauce and spices. Simmer for 15 minutes over medium heat.
To assemble spray the Dutch oven with cooking spray.
Spread a thin layer of sauce on bottom.
Add a layer of the noodles, breaking to fit the pan.
Spread with a layer of ricotta cheese mixture.
Top with a layer of sauce.
Add a layer of mozzarella cheese.
Repeat 2 more times.
Top with the parmesan cheese. (leave last layer of mozzarella cheese until last 15 minutes of cooking time.)
Add lid to Dutch oven.
Add 17 coals to the bottom of fire pit.
Place Dutch Oven on top.
Add 21 coals around the outside of the lid.
Cook for 45 minutes.
Remove lid carefully. Add last layer of mozzarella cheese. Replace top. Cook another 15 minutes.
Let set 10 minutes before serving.
Want to see another of our Dutch Oven recipes?
Dutch Oven Boston Butt Roast and Beans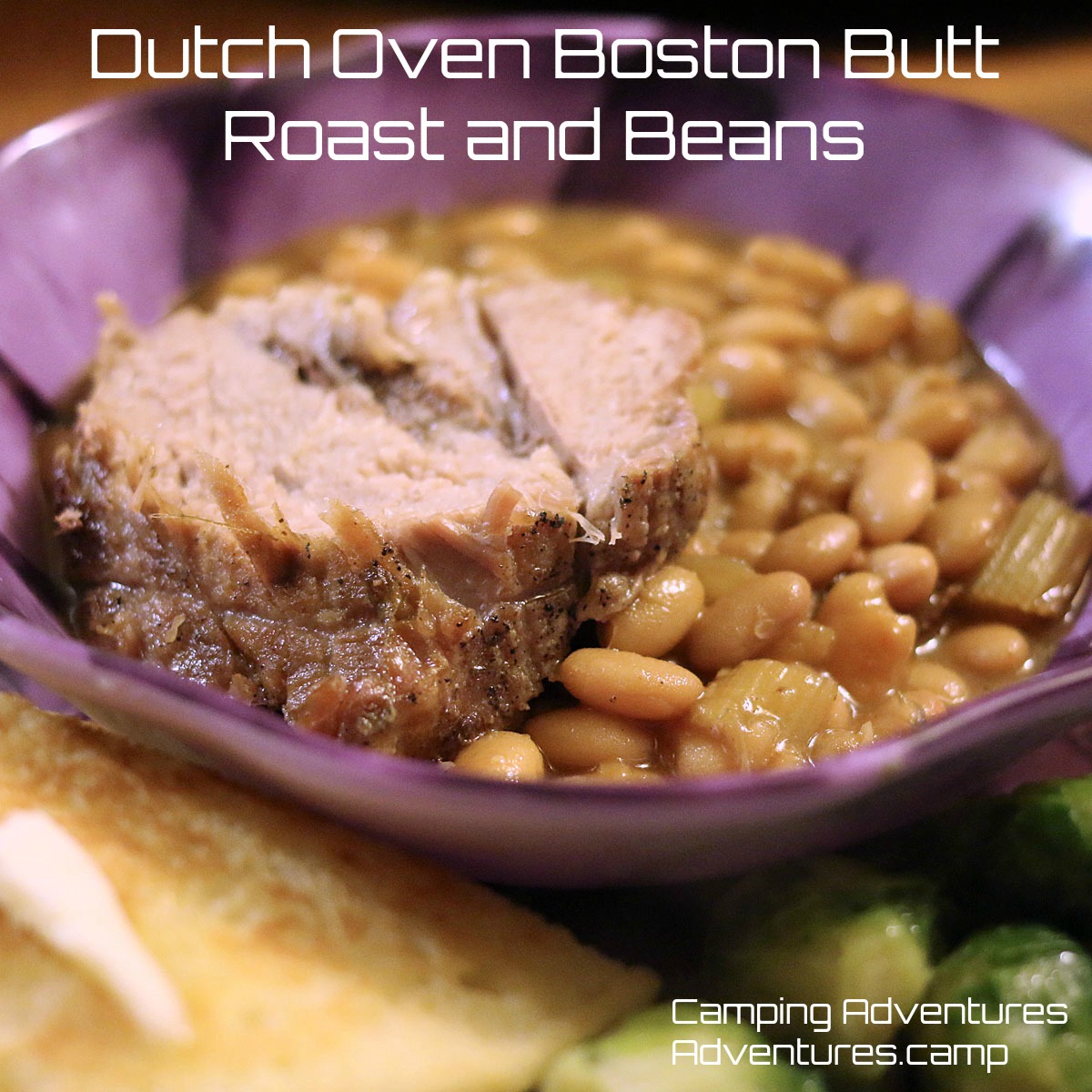 Dutch Oven Chicken and Poblano Peppers Stew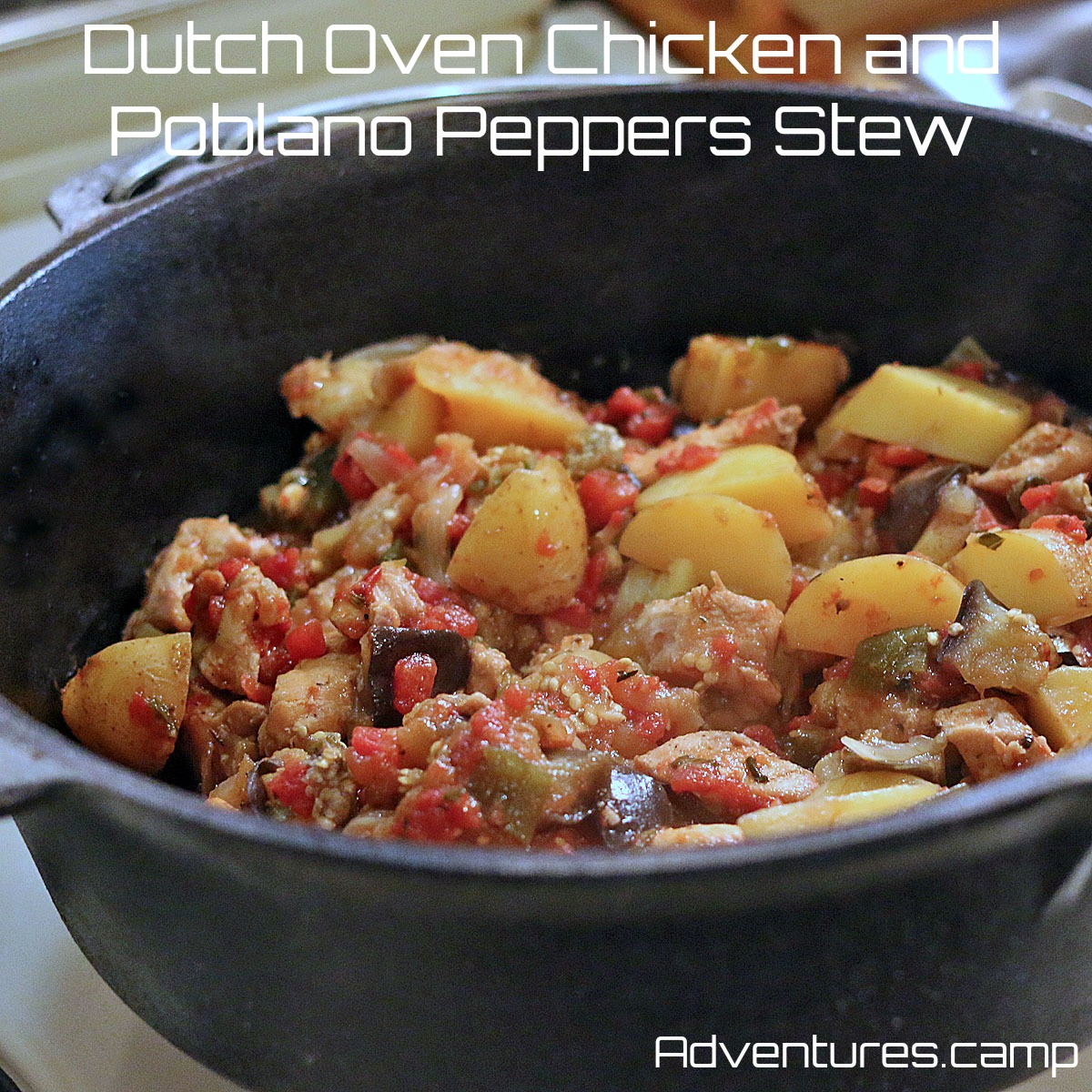 Dutch Oven Roasted Chicken with Vegetables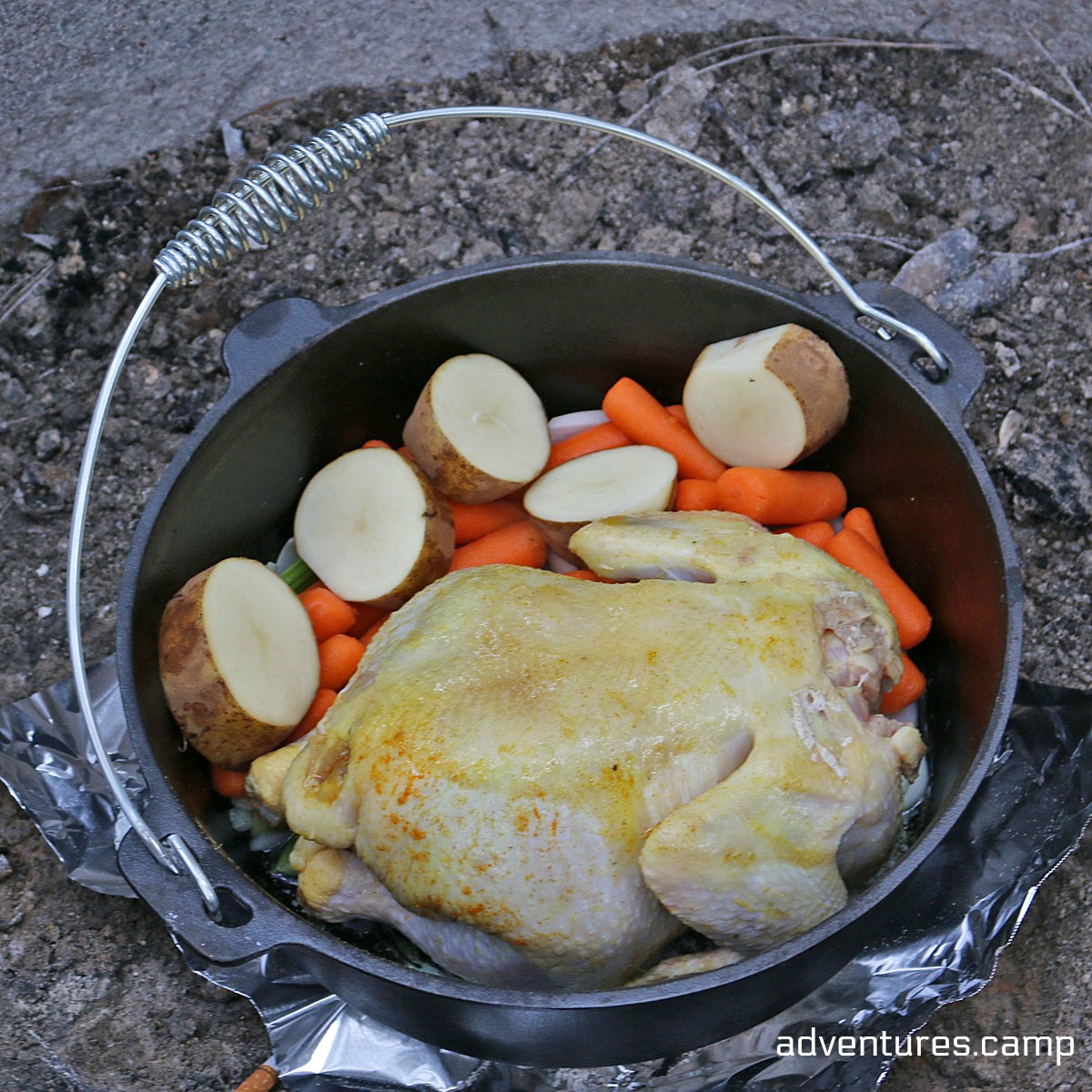 Pin It!